XOXO SWEDEN - Sweden in America.
A free online service that makes sense if you share our love of Sweden - browse news, post opinions or learn more from others. Eller, om du är SVENSK - här hittar du bostad, hyr ut eller finner vänner och aktiviteter i ditt område. Det kostar inget, tvärtom; 'it pays'
Sign Up Now»


Land of Nod
Sofia Englund's "The Land of Nod" premieres at Newport Beach Film Festival in the short film category this weekend.

No more tours for Roxette
The popular Swedish duo, Marie Fredriksson and Per Gessle have cancelled all future tours.

Another prince in the royal family!
A baby boy was born to Princess Sofia and Prince Carl Philip on April 19. A fifth grandchild for the reigning King of Sweden. Photo: Prince Carl Phili...

Ready for May First?
These activists are ... On the placard "Everyone has the right to a second chance in school" and, who can argue with that?

Celebration at Skansen
Skansen is celebrating its 125th anniversary throughout 2016. As if to celebrate a new family of four appeared for the first time in public.

Dalarna: the Very Essence of Sweden
The traditional church boats of Siljan Lake in Dalarna

The orient express on water
Traveling in style from Gφteborg to Stockholm and vice versa; Sweden's Gφta Kanal offers a unique experience of the country.

Aerial Stockholm
Sweden's capital is one of few major cities where hot air ballooning over the town is till allowed. (Not while President Obama visits but most of the ...

Sometimes touring the country
..will offer surprise encounters along the way, such as this one, just north of Umeε, European Cultural Capital in 2014.

Traveling in the Summer
..through Sweden can offer the most amazing sceneries, the colors and experiences out of this world.

Nordic Delicacies
This piece of Norway in the heart of Brooklyn - located at 6909 3rd Avenue. Find Scandinavian homemade and imported food and gift items.

Just Scandinavian
Josef Frank fabric, Gustavsberg and Bruno Mattson - New York's answer to Stockholm's Svenskt Tenn!

Camilla Lδckberg in New York
Swedish best selling crime writer Camilla Lδckberg, left, in New York for book signings and the launch of a newly translated title, "The Stonecutter"

Chicago's Andersonville
The sign at the entrance to the Swedish American Museum leaves very little to the imagination - "Vδlkommen" / Welcome!

Chicago's Andersonville
The Chicago Andersonville area was settled by first generation Swedish immigrants after the Chicago fire in 1871.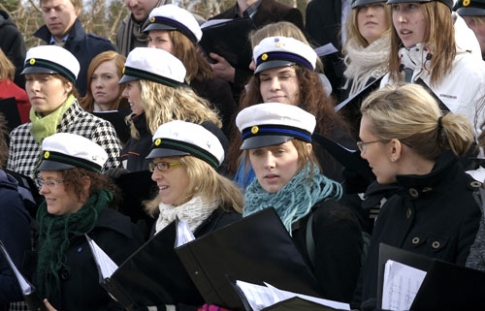 Walpurgis Night: Singing by firelight
Choral singing is a favorite pastime in Sweden, and now is when almost every singer in the country makes his voice he... Read more » Read more»